At the beginning of this month my smaller book club met to discuss The Haunting of Hill House by Shirley Jackson. We had decided that with the approach of Halloween we would try to pick a couple of good scary stories to read, and we started off with a classic!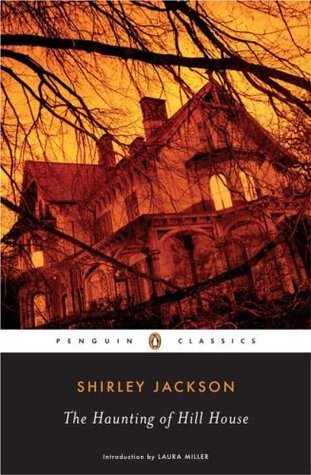 From
Goodreads.com
:
The classic supernatural thriller by an author who helped define the genre

First published in 1959, Shirley Jackson's The Haunting of Hill House has been hailed as a perfect work of unnerving terror. It is the story of four seekers who arrive at a notoriously unfriendly pile called Hill House: Dr. Montague, an occult scholar looking for solid evidence of a "haunting"; Theodora, his lighthearted assistant; Eleanor, a friendless, fragile young woman well acquainted with poltergeists; and Luke, the future heir of Hill House. At first, their stay seems destined to be merely a spooky encounter with inexplicable phenomena. But Hill House is gathering its powers—and soon it will choose one of them to make its own.
This turned out to be my favorite kind of horror novel: subtle, with tension that slowly builds and leaves you more frightened by what is left to your imagination rather than going for big dramatic frights. The narrator of most of the story, Eleanor, is the classic unreliable narrator: a psychologically frail, sheltered, emotionally repressed young woman. It's left up to the reader to decide if what happens to the group staying in Hill House is the result of a real haunting or else the imaginings of Eleanor's increasingly unstable mind.
I really enjoyed this book! I also discovered Shirley Jackson through this selection and was happy to find a new (to me) female American author that I like. She wrote in the gothic style of Daphne du Maurier which made me so happy, as du Maurier is one of my favorite authors of all time. I adore spooky gothic stories!
Three friends showed up at my house for our discussion party. We had a great time and everyone loved the book!
Would you like to see our menu?! Here's what we had to eat!
Haunting of Hill House Party Food:
Crockpot Grape Jelly Meatballs
Assorted Cheeses and Crackers
Crudites Platter
Spinach Dip (brought by Marla)
S'mores Bars (Marla again...thanks Marla!)
Caramel Apple "Nacho" platter (brought by another guest)
Pumpkin Pie and Mini Pumpkin Tarts
Kettle Corn
Halloween/Harvest Chex Mix
Black Fruits Sangria
Iced Tea
I only got a few pictures of the food and decorations to share. I wish I had taken more, but here's what I have. This was possibly my favorite meeting with this group yet!
It's hard to see, but the pumpkin tarts have little sugar
ghosts on top! The pie has dough cutouts of fall leaves.
Black Fruit Sangria, made with
blackberries, purple plums, muscadine grapes,
raspberries, Apothic Dark red wine, and brandy.
Pumpkin and live mum arrangement
with fairy lights. On the table are bags of
Halloween Chex Mix for the guests to take
home in cute little Day of the Dead bags!
Marla's always saying something funny!
We laugh a lot at book club!
And before I forget, special thanks to my little kitchen assistant, Marco, who "helped" me prepare the food and pies the night before our party!! He loves to sit on my shoulder while I cook. I took this selfie of the two of us hard at work in the kitchen that Saturday night!