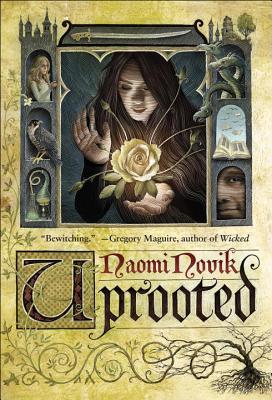 "Our Dragon doesn't eat the girls he takes, no matter what stories they tell outside our valley. We hear them sometimes, from travelers passing through. They talk as though we were doing human sacrifice, and he were a real dragon. Of course that's not true: he may be a wizard and immortal, but he's still a man, and our fathers would band together and kill him if he wanted to eat one of us every ten years. He protects us against the Wood, and we're grateful, but not that grateful."
So begins the story of a peasant girl named Agnieszka and her beloved home in a tiny village that sits unfortunately close to a sinister, corrupted, sentient Wood. The Wood deserves the capital W because it's practically a character in its own right--and a terrifying one. A wizard called the Dragon lives in a tower high above the valley where Agnieszka's village is located, and he helps to keep the evil of the Wood in check. In return for his protection, once every 10 years he chooses a young woman to leave her family and serve him. After 10 years, she is free to return home, but the girls never do. They go off to the capital to live, or to the university, but they never choose to return home for more than a brief visit when their service is over.
"He doesn't devour them really; it only feels that way. He takes a girl to his tower, and ten years later he lets her go, but by then she's someone different. Her clothes are too fine and she talks like a courtier and she's been living alone with a man for ten years, so of course she's ruined, even though the girls all say he never puts a hand on them. What else could they say? And that's not the worst of it--after all, the Dragon gives them a purse full of silver for their dowry when he lets them go, so anyone would be happy to marry them, ruined or not. But they don't want to marry anyone. They don't want to stay at all."
When Uprooted begins, it's the year of the choosing, and everyone is sure the Dragon will take Agnieszka's dearest friend, Kasia.
"The Dragon didn't always take the prettiest girl, but he always took the most special one, somehow: if there was one girl who was far and away the prettiest, or the most bright, or the best dancer, or especially kind, somehow he always picked her out, even though he scarcely exchanged a word with the girls before he made his choice. And Kasia was all those things."
But of course, it's not Kasia the Dragon chooses, it's Agnieszka.
Agnieszka, who is chronically clumsy and untidy, and has no especial skills beyond an affinity for wandering in the forest and gathering herbs and berries and plants. She's not terribly pretty, she's can't sing or cook, and her clothes and hair are always unkempt no matter how hard she tries to stay neat and clean. The one thing Agnieszka does have is a kind heart and absolutely loyalty to the people she loves. Shortly after the Dragon takes her to his tower and begins to teach her magic, the Wood's corruption spreads into her village. A villager is horribly corrupted and must be dealt with, and Kasia is taken and trapped inside an evil heart-tree deep in the Wood. Agnieszka's fierce love and determination are Kasia's, and the village's, only hope.
I can't tell you how much I loved this book. The author references Polish mythology to create this stunning piece of dark fantasy fiction. Uprooted reads like an Eastern European fairy tale, but with well developed characters and a totally fresh feel. I adored the dark, brooding Dragon, the plucky and girl-next-door type heroine, and the sinister, evil, frightening Wood.
The other members of my new book club adored Uprooted, too. Martina had read it last year, as had I, and we knew it would be a good choice for our first book club selection. Marla read it in three days, and immediately re-read it because she had devoured it so quickly the first time she was afraid she had probably missed some things! The other three members who read it all agreed that it was fabulous. And guess what? Ellen DeGeneres and Warner Bros. have bought the rights to make a movie next year! We're all really excited to see how it turns out.
Uprooted has been nominated for several awards: a Hugo 2016 for best novel; a Nebula award for best novel 2015; and a Goodreads Choice 2015 for young adult fantasy and science fiction.
Later tonight, or tomorrow, I will share pictures and recipes from our Uprooted book club party yesterday (which was a big success!).