Since I haven't posted any book reviews in a while, I decided to make up for it today and post two small ones for books I've read recently.
The first book is
The Japanese Lover
by Isabel Allende. Here's a short synopsis from Goodreads. com:
In 1939, as Poland falls under the shadow of the Nazis, young Alma Belasco's parents send her away to live in safety with an aunt and uncle in their opulent mansion in San Francisco. There, as the rest of the world goes to war, she encounters Ichimei Fukuda, the quiet and gentle son of the family's Japanese gardener. Unnoticed by those around them, a tender love affair begins to blossom. Following the Japanese attack on Pearl Harbor, the two are cruelly pulled apart as Ichimei and his family, like thousands of other Japanese Americans are declared enemies and forcibly relocated to internment camps run by the United States government. Throughout their lifetimes, Alma and Ichimei reunite again and again, but theirs is a love that they are forever forced to hide from the world.

Decades later, Alma is nearing the end of her long and eventful life. Irina Bazili, a care worker struggling to come to terms with her own troubled past, meets the elderly woman and her grandson, Seth, at San Francisco's charmingly eccentric Lark House nursing home. As Irina and Seth forge a friendship, they become intrigued by a series of mysterious gifts and letters sent to Alma, eventually learning about Ichimei and this extraordinary secret passion that has endured for nearly seventy years.
I was really looking forward to this book, because I'd never read anything by Allende and she's supposed to be one of the great modern writers. To my disappointment, the characters were somewhat flat and the "great love affair" between Alma and Ichimei barely got half a chapter's description. I didn't feel any emotional connection to their story at all. I read a review somewhere that said that "Allende
tells
us rather than
shows
us" what the characters were like and that's as good a description of what I disliked about the book as I can think of. I also thought some of the characters made choices and had ways of thinking about things that didn't ring true at all. It was an easy read, but overall I thought it kind of bland and I was disappointed that it left me with very little desire to read another Allende book anytime soon.
Last week after hearing praise for a year or so about
The Light Between Oceans
by M.L. Stedman and seeing photos from the film that's about to be released, I decided it was time to read it.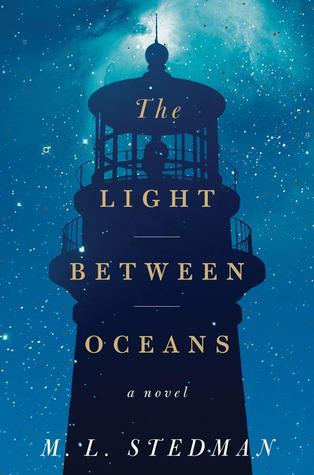 Here's the Goodreads plot description:
After four harrowing years on the Western Front, Tom Sherbourne returns to Australia and takes a job as the lighthouse keeper on Janus Rock, nearly half a day's journey from the coast. To this isolated island, where the supply boat comes once a season and shore leaves are granted every other year at best, Tom brings a young, bold, and loving wife, Isabel. Years later, after two miscarriages and one stillbirth, the grieving Isabel hears a baby's cries on the wind. A boat has washed up onshore carrying a dead man and a living baby.

Tom, whose records as a lighthouse keeper are meticulous and whose moral principles have withstood a horrific war, wants to report the man and infant immediately. But Isabel has taken the tiny baby to her breast. Against Tom's judgment, they claim her as their own and name her Lucy. When she is two, Tom and Isabel return to the mainland and are reminded that there are other people in the world. Their choice has devastated one of them.

M. L. Stedman's mesmerizing, beautifully written novel seduces us into accommodating Isabel's decision to keep this "gift from God." And we are swept into a story about extraordinarily compelling characters seeking to find their North Star in a world where there is no right answer, where justice for one person is another's tragic loss.
First let me say, the writing here is sometimes quite beautiful. I loved the descriptions of tiny, desolate Janus Rock and the life of the lightkeepers who live there. The tides, the stars at night, the constant wind and waves of the shore, the workings of the lighthouse, all were described beautifully. But then, there were the characters. I thought I was going to have major empathy for Isabel, the grieving mother who finds the baby and considers her a gift straight from God....but as the book goes on and her husband, Tom, struggles with the morality of what they've done (especially after they find out who the baby really belongs to) I started to dislike her more and more. She's completely unsympathetic to Lucy's birth family and insists on keeping the secret that the baby doesn't really belong to them. And she's horrible to her husband who, despite his love for the child, wants to do the right thing by the grieving birth mother. In fact, Tom is the character I felt the most deeply for which was a real surprise to me. By the end of the book I just wanted to slap Isabel...her behavior in the second half of the book was just atrocious! I was also quite saddened by how the book turned out, but I knew early on that the ending wasn't going to be sunshine and roses for
anyone
involved. I read
The Light Between Oceans
in two days, and really enjoyed it. The characters I've seen chosen for the movie look really good, and while I probably won't be seeing it in the theater, I will be interested in watching it eventually. Here's a trailer if you're interested:
https://youtu.be/YSX-mpsVutQ