South Carolina is one of a handful of states that is still without a "stay at home" order. Although all non essential businesses have been ordered to close, there are still plenty of stores open that, to my mind, really push the boundaries of "essential". Our beaches and state parks were finally closed last week, and about time, too. Far too many people are still (still!) not taking social distancing seriously enough.
There's a reporter/photographer for our local newspaper who used to be a parent volunteer at the school where I work. Her oldest child is a senior in high school this year. On Friday, the first day of our district's spring break, she published a series of photos in the paper of her son and his baseball teammates cavorting around a swimming pool at one of the boy's homes. She made a throwaway comment at the end about the boys celebrating "while being mindful of social distancing guidelines". I call bullshit. Look at these photos. Do these young men look like they're being mindful of being 6 feet apart at all times to you?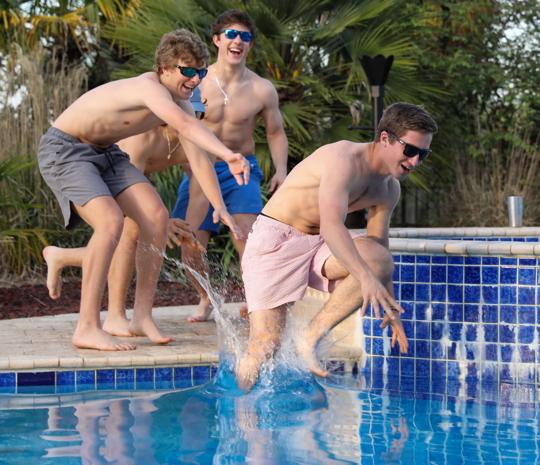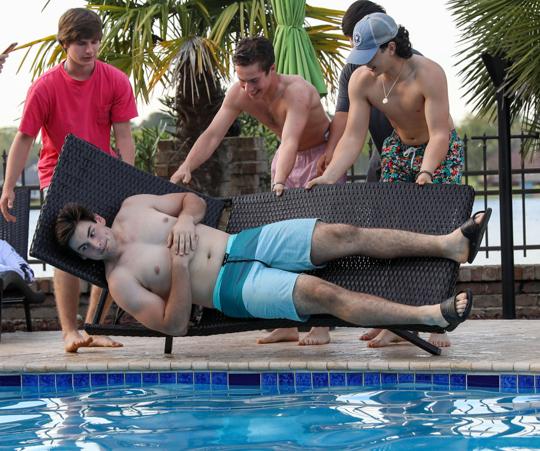 She went on to lament the fact that the boys had planned to spend spring break at the beach, but now they can't because of the Covid-19 restrictions. Some of her fellow parents of seniors (mostly all upper middle class white women) have been on social media whining about their poor little babies who are going to miss prom and graduation this year.
THIS IS WHILE PEOPLE ARE GETTING SICK AND DYING! THIS IS WHILE OUR MEDICAL WORKERS AND GROCERY/DRUG STORE CLERKS ARE RISKING THEIR LIVES TO PROVIDE FOR OUR NEEDS DURING THIS CRISIS!
I can't stand the entitlement. It just burns me up. Look, I get it. I know that high school seniors are disappointed to miss out on major milestones, and I would have been disappointed at that age, too. But what about civic responsibility? What about self sacrifice for a greater good? These young people (especially ones like the boys in these photos) have never wanted for a single thing in their whole lives. The mother of one of them actually complained to me last month about how their "last family vacation (to Rome) before her son leaves for college" had been ruined. These kids are steeped in privilege. Their grandfathers and great grandfathers were called to war; these boys are being called to the sofa, and they act as if that's a hardship.
I know I'm not a parent, but if I was, I would try my hardest to impress on my kids that sometimes we must sacrifice our selfish wants for a higher purpose. Life isn't fair, and if the most they're ever called upon to do is miss out on some parties and celebrations, then they will have been among the most blessed people on the face of this earth. That they have a responsibility to their fellow humans, especially those who have less than them. And that it's unseemly in the extreme for newly grown up men and women to whine and complain while some essential workers in their community are risking their lives to mitigate this crisis.
Thoughts?